La Posada de los Farios is perfectly located in Chilean Patagonia 2 hours north of the small Patagonian city of Coyhaique. The lodge is far enough away from civilization (3 hrs to Balmaceda airport) to escape the masses yet close enough so as not to require a charter flight or an extra day to get to. Unlike most other regional lodges, it is quite rare to encounter any other anglers at all during a typical week's stay at La Posada, making this perhaps the very best location in all of Chile. La Posada is situated on a peaceful working, cattle ranch a stone's throw away from the beautiful Rio Cisnes (Swan River, widely recognized as among the finest brown trout fly fishing streams in the region. Remote and separated from other lodges and outfitters, with a wide variety of productive and unspoiled trout waters with in close range. The fishing is primarily for wild and aggressive resident Brown Trout that abound in the local waters, hence the name: Los "Farios", taken from the original Latin name for the German Brown Trout the name still used in Chile, France and other countries. Rainbow Trout and King Salmon are also found in the nearby waters.
The scenery from the lodge is spectacular and the fishing options are abundant. The lodge itself is the original historic 60 year-old ranch house, modified to comfortably handle a maximum of just 6 guests per week. We strive to maintain a relaxed, down-home atmosphere around the lodge, with delicious meals served family style, always complimented by fine Chilean wines, freshly baked bread and organic vegetables from neighboring subsistence farms.
During your fishing day an abundant picnic lunch will be prepared streamside by your guide and a steaming wood-fired hot tub and frosty mug of beer will always await you at the end of your fishing day.
Daily fishing options include floating one of several spectacular sections of the Rio Cisnes or Rio Manihuales, wading seldom fished smaller sections of the Rio Cisnes, exploring hidden lagunas and spring creek tributaries, or fishing one of several other very gorgeous trout filled lakes within our range. Our fishing begins as close as right out the front door and we rarely travel more that 1 hour to get to any of our fishing venues. The drives to all our fishing areas pass through some of the most picturesque mountain terrain on earth.
Large high-floating "foam bugs" are used most often but, both nymph, dry/dropper, and streamer techniques may be employed when conditions dictate. It is not uncommon to see truly large Brown Trout feeding on the surface. Virtually all our angling is done in the shadows of the spectacular Andean peaks that form the border with Argentina The beautiful Queulat National Park, known for it's glaciers and lush temperate rainforest, is located just to our north. All fish are released.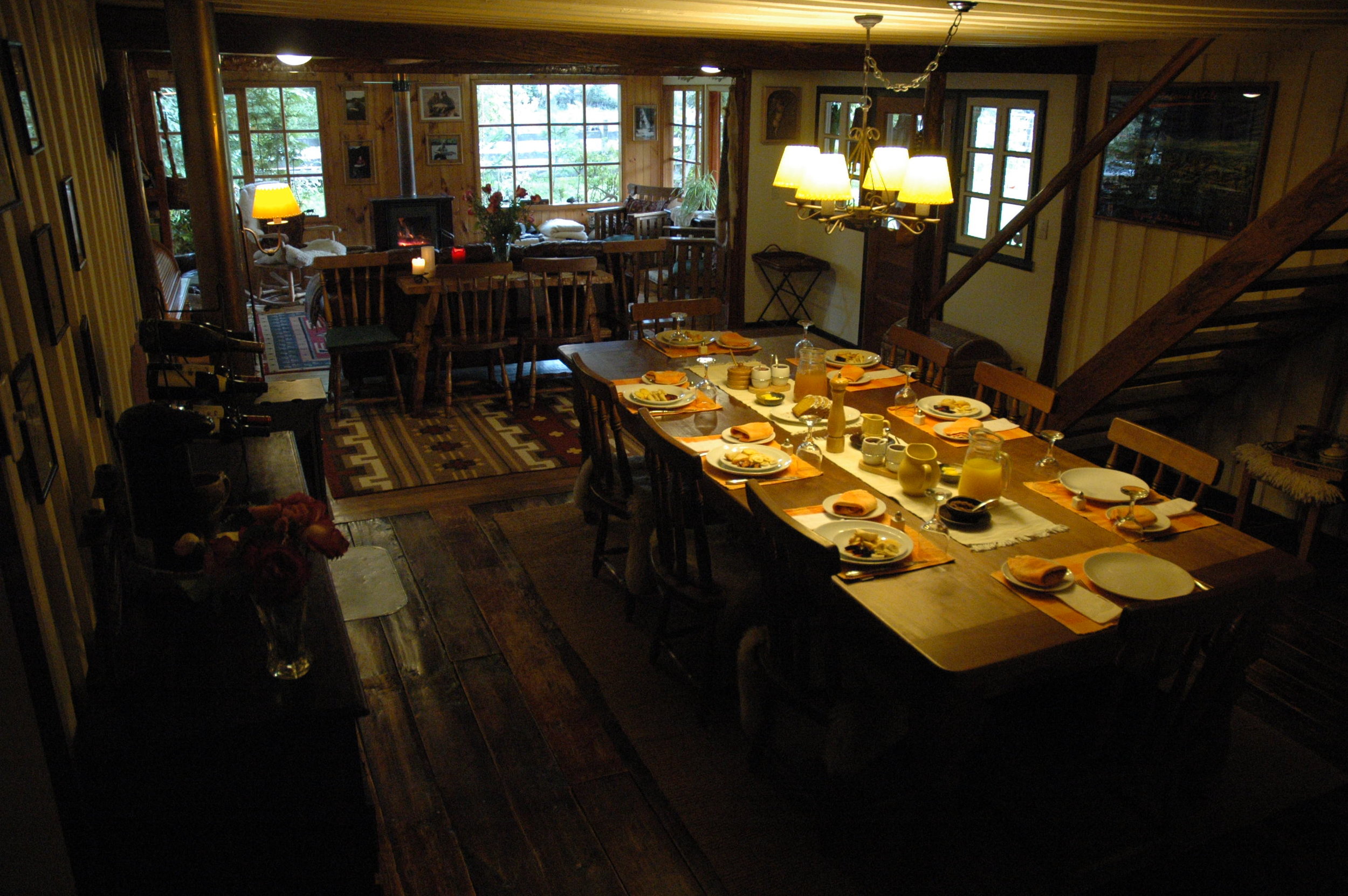 Non-fishing guests are welcome and can enjoy activities such as horseback riding, river rafting, kayaking, hiking, mt. biking, birdwatching, excursions into nearby wilderness areas, or cultural visits to neighboring farms and villages. The nearby Queulat National Park has some truly amazing trails leading to spectacular hanging glaciers and waterfalls.
The rural local people "campesinos" live a simple lifestyle that has long vanished from the North American continent and meeting them can often be a visitor's most memorable Patagonia experience. Sharing a traditional "mate" tea with a local gaucho is the quintessential Patagonian experience and something you'll surely never forget.
Rex Bryngelson and his lovely Chilean wife Maike are devoted to making your visit to Chilean Patagonia the most pleasant and interesting experience possible. Rex has guided fishing and whitewater trips in Chile since 1988 and has been involved in the pioneering of many of Chilean Patagonia's most successful fisheries. His many years of outdoor experience in Alaska and throughout North and South America make him fully capable of leading just about any type of outdoor adventure. Rex is also an accomplished outdoor photographer and writer and leads photographic tours throughout Patagonia and beyond with his company Patagoniaphoto.com. Maike (my-kay) was raised in the south of Chile and her enthusiasm for life along with her knowledge and insight into the local chilean culture provide for plenty of interesting conversation. Maike is fluent in english, german and Spanish.